2010-2011 Undergraduate Course Catalog
[ARCHIVED CATALOG]
2010-2011 Undergraduate Course Catalog
---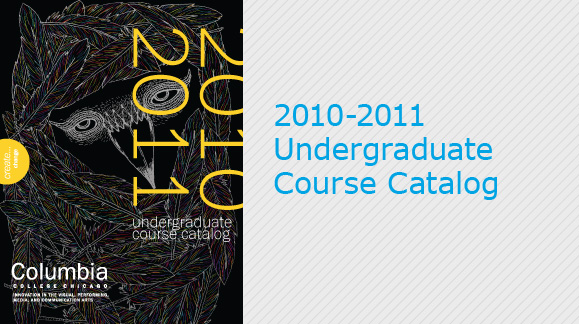 Welcome to Columbia's First E-catalog
This is an online interactive version of the 2010-2011 Undergraduate Course Catalog. The information available here is identical to the printed version (course descriptions, academic policies, and requirements for admission) but there are some cool additional features only available here.
My Favorites - Did you find a program you want to ask your faculty advisor about? Click "Add to Favorites" and it will be added to a mini vesion of the catalog with just the information you that interests you.  Then you can print it out and bring it to your next advising session, or save a tree and just login and show your advisor. You can add courses, programs, and even the requirements for admission.

Catalog Search – So, you are interested in Fashion. Do you know about 53 3540 - Fashion Journalism? We didn't until we typed "fashion" into the search; selected "entire catalog" and clicked "go!" And that's not all we found!
We are excited to offer this new tool and look for even more new features in the 2011-2012 catalog.
Columbia College Chicago At A Glance
Columbia College Chicago educates students for the real world through hands-on training in the arts, media, and communications. Surrounding and infusing this practical career preparation is a strong framework of required courses in the liberal arts and sciences. A Columbia education combines the pragmatic and the theoretical, the entrepreneurial and the academic. Thanks to our faculty members' immersion in the working world and our location in the heart of downtown Chicago, Columbia students and graduates enjoy exceptional internship and career opportunities. Columbia College Chicago is and independent and unaffiliated institution of higher education.
Equal Opportunity
Columbia College Chicago complies with all local, state, and federal laws and regulations concerning civil rights. Columbia College Chicago does not discriminate on the basis of race, color, national origin, sex, disability, age, religion, or sexual orientation in its programs and activities. Inquiries regarding the non-discrimination policies should be directed to the Equity Issues Office of the Dean of Students.
---